AccountingSuite is an accounting, order management and inventory software built for small businesses. It's built in the cloud, so there is no need to worry about being at the right computer when you need to access your account.
I use it for several endeavors, but this article will discuss how I use it with the rentals I manage via AirBNB.
The Software
The software can be purchased at https://accountingsuite.com. I use the business edition, as I don't need inventory. It's $25/month, and well worth it. They have good documentation and a stellar support team.
Setting it all Up
AccountingSuite has a getting started wizard to get the account setup and it walks you through the process. When you get to the part about the Chart of Accounts, I would add an expense account for the AirBnb host fees and also accounts for any business related expenses that you might be able to deduct on your taxes.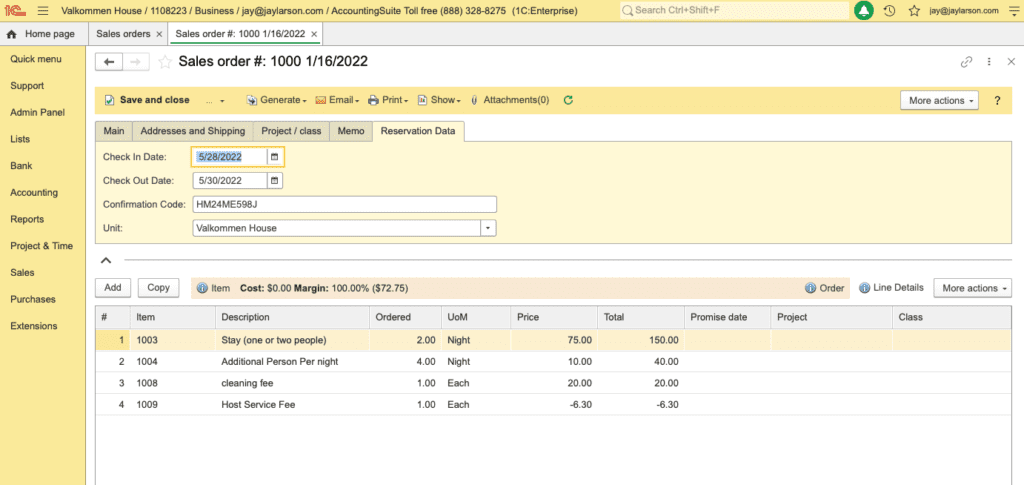 Now that the account is set up, create some custom fields so you can keep track of things. I created several custom fields on the Sales Order (my "reservation) including Check-in Date, Check-out Date, Additional Guest Names and the code I assigned them for their voicemail (I have a guest phone in the room). I also have a field for the AirBNB confirmation number and which rental unit they have reserved (I have 3). All of these fields are on a tab called "Reservation Data". The screenshot to the left shows my custom fields.
I've also pre-created items for a Stay, additional guest charge, cleaning fee and host service fee which I can record on my Sales order. See the screenshot on the left. These items will populate the description and price automatically and give me a total on the bottom which I compare to the breakdown that is given in AirBnb.
When the guests check in, I create a sales invoice. It's a simple process: Click Generate / Invoice from the Sales Order. I then create a cash receipt and record it to my AirBnB Clearing account. That way I know how much I'm waiting on AirBNB to payout. When I see it hit my back account, I just accept the transaction that flowed in automatically from my bank and match it to the invoice and the transaction gets closed out.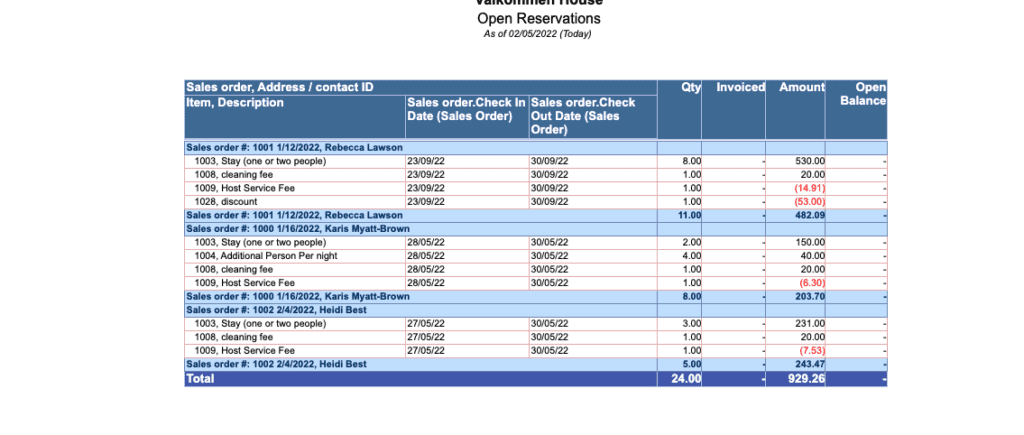 There are some great reports that I can run to see how I'm doing with sales and expenses, and I can have additional users. There is a built in video conferencing tool and a messaging system.